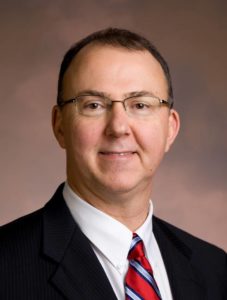 Dr. Chris G. Bartone, P.E. performs technical expert services for various patent litigation case and contractual disputes. Technical expert services are available in the area of communications, navigation, and surveillance (CNS) systems on a case-by-case basis.
Dr. Chris G. Bartone, P.E. is President of GNSS Solution Ltd and Professor at Ohio University with over 30 years of professional experience in CNS systems. He received his Ph.D.EE from Ohio University in 1998, a MSEE from the Naval Postgraduate School in 1987, and BSEE from The Pennsylvania State University in 1983. He previously worked for the Naval Air Warfare Center, performing RDT&E on CNS systems. Chris received the RTCA William E. Jackson Award in 1998 for his outstanding contribution to aviation in the area of DGPS. At Ohio University, Dr. Bartone has developed and teaches a number of GPS, radar, and wave propagation and antenna classes. His research concentrates on all aspects of CNS systems. He is a member of the ION and the IEEE. Chris is a licensed professional engineer in the state of Ohio.
Expertise of Dr. Bartone in the technical expert legal support area is highlighted below since 2005. Additional information on these specific cases is available upon request.
Significant experience as a technical expert in the areas of
communication, navigation, and surveillance systems.
Technical expert in approximately 16 cases in the areas of:
Vehicular and telematics navigation using GPS

Cellular mobile phone location based services (LBS) and E911

Satellite communications involving satellite internet technologies

Radar detection and speed control in automotive applications

Wireless communication

Integrated navigation systems

GPS receiver technologies.
In these patent cases, Dr. Bartone has:
Trial experience: Three (3) trials (one ITC and two District Court)

Deposition experience: Seventeen (17), (approximately 100 hours).

Inter Partes Review (IPR) declaration and deposition experience:

USPTO Re-exam experience Five (5) USPTO interviews.
These patent cases were in the following venues:
US International Trade Commission (ITC) Federal Court

US District Court:

Southern District of California

Eastern District of Texas, Tyler Division

Eastern District of Virginia

Northern District of Ohio

District of Idaho.

USPTO Inter Partes Review (IPR), Patent Trial and Appeal Board.

USPTO Re-examinations.
Significant experience with technical reports:
Expert reports on Infringement

Expert reports in Rebuttal on Infringement

Expert reports on Validity

Expert reports in Rebuttal on Validity

Supplemental Expert Reports for above.

Declarations on various topics related to:

written description

inequitable conduct

motion of summary judgment (MSJ)

IPRs, USPTO re-examinations.
Supported other various cases not involving reports or testimony in the area of vehicular navigation, differential radionavigation techniques, GPS-based precision approach and landing system technology, and GPS chip technology and receiver design.
For additional information on Dr. Chris G. Bartone, P.E., GNSS Solutions Ltd President and Technical Expert, you may download his CV. or contact him directly at: bartone@GNSSsolutions.com or 740-591-1660 (m).